New dormitories for local university, thanks to the People's Republic of China. Dormitories to be used as accommodation for athletes
The People's Republic of China and the Solomon Islands government recently celebrated a significant achievement in their joint efforts by officially delivering the keys to newly constructed dormitories at the SINU Kukum campus. These dormitories are crucial for the upcoming Pacific Games, set to accommodate athletes from across the Pacific region during the two-week sporting event next month.
The dormitories, consisting of four storeys, a multi-purpose hall, and an equipment and maintenance block, encountered various challenges during construction, including navigating the impacts of the COVID-19 pandemic, unexploded ordinances, earthquakes, and adverse weather conditions.
PRC Charge D'Affaires, Mr. Ding Yongua, expressed China's satisfaction in supporting the Solomon Islands once more in this significant initiative. He emphasized that these dormitories are just one among several projects that China has supported in the Solomon Islands.
Prime Minister Manasseh Sogavare expressed gratitude to the Chinese government, recognizing the contractor and management teams for successfully completing the project within the designated timeframe and budget. Stressing the significance of these new facilities, Prime Minister Sogavare highlighted the substantial $174 million investment in SINU. He commended the joint commitment of the National Hosting Authority (NHA) and the People's Republic of China in transforming the university's infrastructure.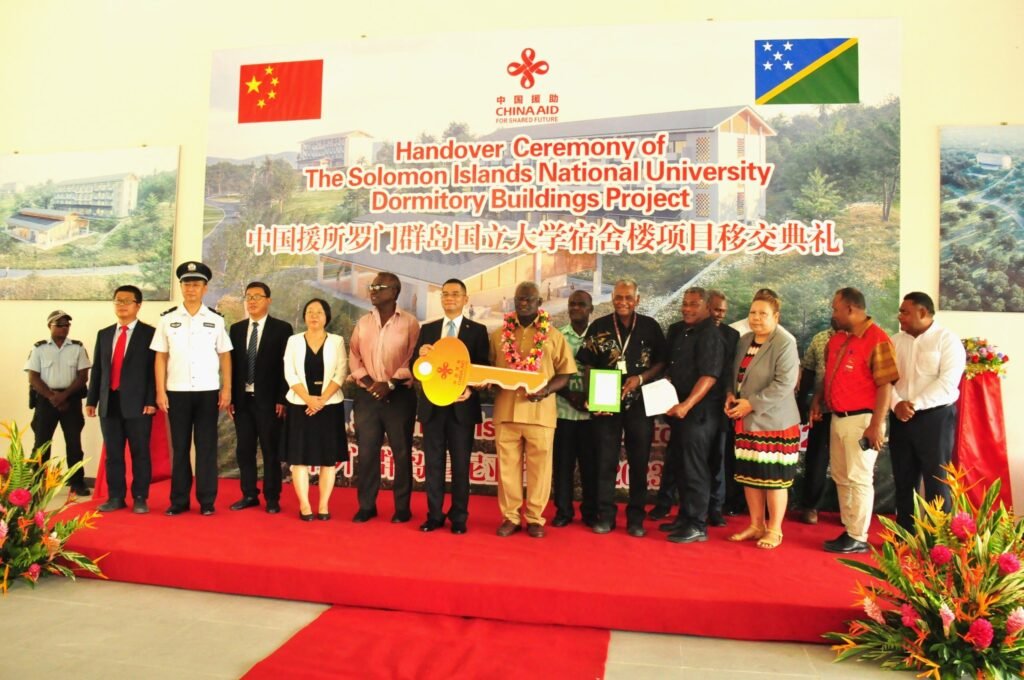 Underlining the importance of maintaining these new facilities after the handover scheduled for December, PM Sogavare emphasized that SINU has received over $200 million in improvements, making it the primary beneficiary of NHA's investments for the Pacific Games 2023. The Prime Minister expressed genuine appreciation for the support provided by the government and people of the PRC, acknowledging their committed assistance to the Solomon Islands in hosting the Pacific Games, despite the relatively young four-year bilateral relationship.
The newly constructed dormitory blocks provide accommodation for 924 students, including facilities tailored for students with special needs. Each floor is equipped with a common room featuring a TV, fridge, and space for making tea and coffee, significantly enhancing the quality of student accommodations.