A three-day workshop on "Awareness of the Trafficking of Women and Girls in Solomon Islands for Sexual and Domestic Exploitation and Abuse" commences in Honiara today. The BBC's NGO, BBC Media Action partnering with the Media Association of Solomon Islands (MASI), Solomon Islands Broadcasting Corporation (SIBC) and the British High Commission in Honiara have made this possible. The partnership has seen a number of workshops held in Honiara, Gizo and Auki for local journalists and reporters on various topics including Reporting on Natural Hazards and Natural Disasters, recently completed in Honiara.
Speaking at the opening of what is now the partnership's sixth workshop, British Deputy High Commissioner to Solomon Islands, Emma Davis said: "For this workshop, the subject matter is a difficult one. Abuses and exploitation of women and girls is abhorrent. The human cost is high and is devastating for victims who are often very vulnerable. "Human trafficking involves the recruitment or movement of people for exploitation by the use of threat, force, fraud, or the abuse of vulnerability. Trafficking is a crime that can occur across international borders or within a country. It often crosses multiple geographic and legal boundaries. Men, women and children may be trafficked for various purposes."
Project Advisor of Hagar International, Nerol Vaekesa, also introduced to the journalists, Hagar's work in Solomon Islands especial the extent of trafficking in the country with women and girls and some of the drivers and causes. She also covered how trafficking operates and whether it is a global problem or just one for certain countries.
Day one also covered the cost of human trafficking by answering questions such as what happens to women and girls who are trafficked. How are they supported? Does the media have a role to play? Guest speakers for this session are caseworkers and counsellors Sarisha Pai and Kerin Bunia. A session on 'The Challenge of Bringing Justice' concluded day one of the workshop where the journalists listened to the Director of Public Prosecutions, Rachel Olutimayen, who explained the challenges facing achieving a successful prosecution and conviction of perpetrators of trafficking. The key question then was whether the legal justice system work for the survivors of trafficking?
Workshop participants will then look at policing and preventing trafficking, including how the Royal Solomon Islands Police Force plays a part in tackling trafficking of women and girls in Solomon Islands. Assistant Commissioner for Crime, Patricia Leta will lead the discussions on Wednesday. Participants will then look at how the public and the media can play their roles in identifying potential victims of trafficking. The leading question of discussion will be: What reports on awareness programmed would provide your audiences with useful information? 'Securing the Borders' will conclude day two of the three-day workshop where journalists will look at how responsible authorities are working to keep the country's boarders safe from the issue of trafficking in persons. They will then end the day with a session on using the right words to describe people when reporting on human trafficking. The final day will cover 'Seeing Trafficking through a Gender Lens.' Discussions will be on how Island Customary Law and attitudes towards gender affects trafficking of women and girls.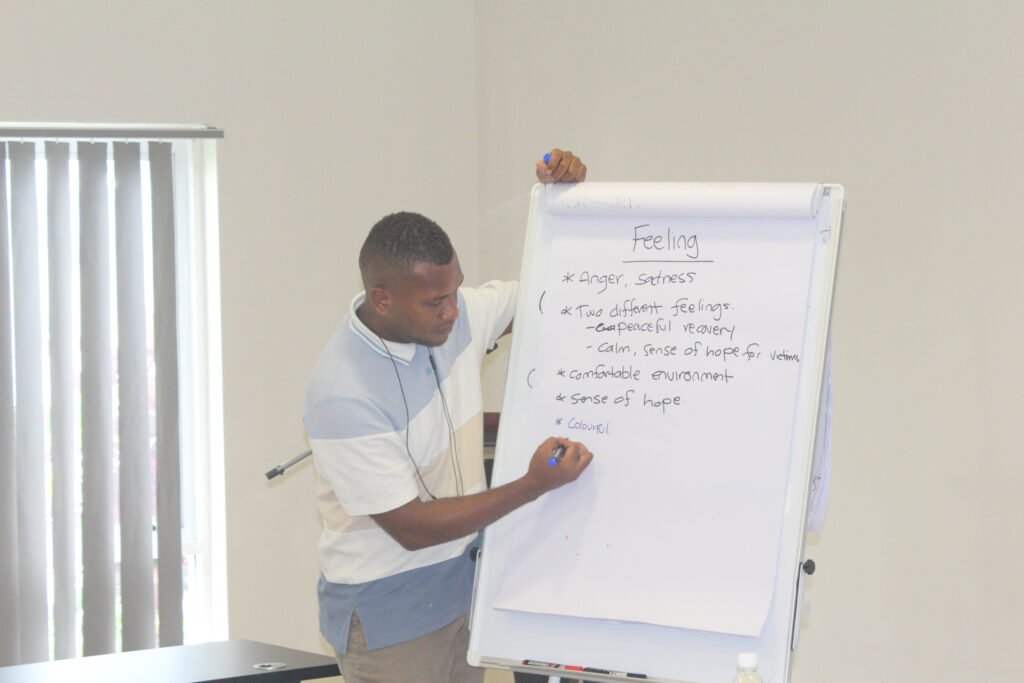 Participants will then go through a session on 'Trauma-Sensitive Coverage', looking at areas like to interview or not interview a victim of trafficking, how to interview without re-traumatising the survivor and techniques for illustrating the story without identifying or stigmatising anyone. The workshop will then conclude with a practical session where participants will get to choose a story angle they would write about trafficking in persons in Solomon Islands.
Deputy High Commissioner Emma Davis said: "I hope that you find it useful, learning from experts in the field, the programme looks very informative both theoretical and practical. I encourage you to learn and take the opportunities to write those stories and highlight the abuse of women and girls. The media plays a vital part in being able to educate on these abhorrent practices, as well as women and girls who could be potential victims and those who are being exploited and where they can turn to for help."
Source: British High Commission to Solomon Islands and Nauru