Earth's precious species on the brink of extinction as highlighted by a comprehensive analysis by a placeforanimals.com
A comprehensive analysis conducted by aplaceforanimals.com has sharply focused on the precarious state of the world's endangered species. The results are alarming, with a significant number of creatures teetering on the edge of extinction. Amphibians, in particular, face a dire situation, with 41% of their species in danger. Out of the 65,000 vertebrate species assessed, a whopping 42,100 are on the brink of extinction. This analysis spotlights Indonesia, a nation renowned for its unrivaled biodiversity, boasting a rich variety of 10,408 animal species. However, this biodiversity comes with a price, as 1,233 of these species are under imminent threat. Notably, Australia and Mexico also ring alarm bells, with threat rates of 12.5% and 13.9%, respectively.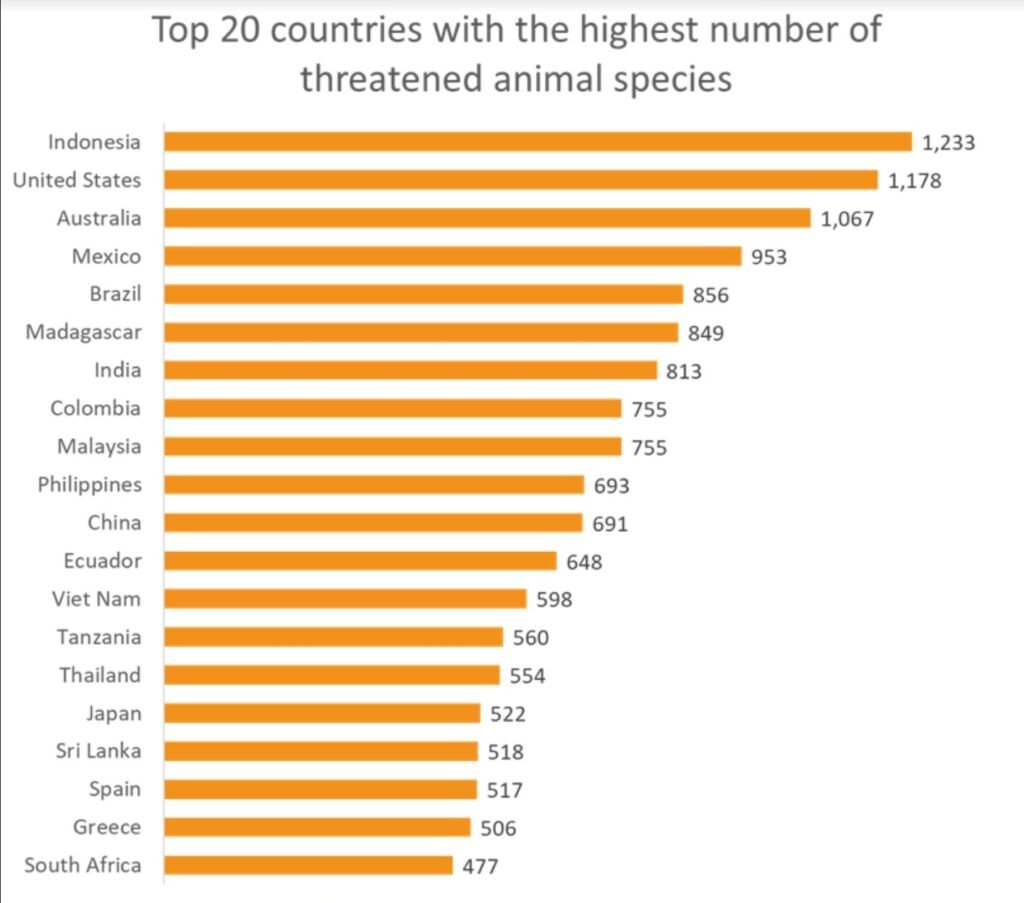 The report not only presents grim statistics but also highlights iconic animals standing on the precipice of extinction. The Javan rhino, with only 75 individuals remaining, and the Amur Leopard, with just 100 left, serve as poignant examples of the impending crisis. However, within this bleak picture, there is a glimmer of hope. An annual investment of approximately $1.3 billion can save 841 of the most critically threatened species, offering a lifeline to these precious creatures.
The aplaceforanimals analysis assessed each nation based on several criteria, including species diversity, the number of endangered species, and conservation efforts. The study maintained its credibility and precision through extensive reliance on data from the International Union for Conservation of Nature (IUCN), offering a meticulous perspective on the state of wildlife conservation worldwide.
Key Findings:
42,100 species are on the edge of extinction according to the IUCN Red List.
Out of 8,536 amphibian species, 41% are endangered.
Indonesia leads with 1,233 threatened species out of 10,408.
The Javan rhino population counts a mere 75, while only 100 Amur Leopards remain in the wild.
A $1.3 billion annual investment could halt the extinction of 841 critically threatened species.
Prominent Animals Facing Near-Term Extinction Risks:
Javan Rhinos: Only 75 remain in Java, Indonesia, threatened by habitat loss, disease, and poaching.
Amur Leopards: 100 left in the wild, with habitat destruction and prey scarcity being significant threats.
Sunda Island Tigers: From an 800 population in 1985, only 400 now exist in Sumatra, Indonesia, endangered by poaching and illegal trade.
Mountain Gorillas: Approximately 1,000 exist, underscoring the urgent need for conservation.
Tapanuli Orangutans: Fewer than 800 remain, with deforestation posing a significant threat.
Kakapos: Only around 140 of these New Zealand parrots are left, threatened by predation and climate change.
Tooth-billed Pigeons: Between 70 to 380 exist, endangered by hunting and habitat loss.
African Forest Elephants: Occupying only 25% of their original range, their numbers are declining.
Vaquitas: Only 9 remain, critically endangered by illegal fishing despite bans.
Hawksbill Turtles: Their populations have seen an 80% drop, marking them critically endangered.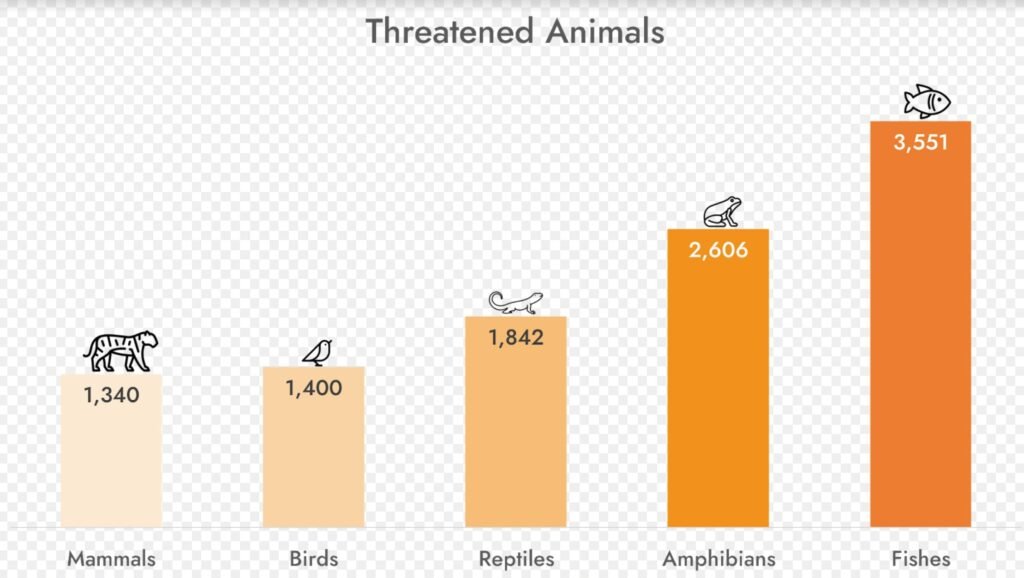 Nations with High Threat Rates:
Indonesia (1,233 threatened; 10,408 total): Approximately 11.9% of Indonesia's animal species are threatened.
United States (1,178 threatened; 8,273 total): Close to 14.2% of the U.S.'s wildlife is at risk.
Australia (1,067 threatened; 8,554 total): About 12.5% of Australia's unique animal species are endangered.
Mexico (953 threatened; 6,880 total): Approximately 13.9% of Mexico's total animal species are under threat.
Brazil (856 threatened; 8,873 total): Nearly 9.6% of Brazil's total wildlife is in need of protection.
Madagascar (849 threatened): Madagascar has 849 threatened species.
India (813 threatened; 6,848 total): Around 11.9% of India's wildlife is at risk.
Colombia (755 threatened; 7,403 total): Approximately 10.2% of Colombia's animal species are threatened.
Malaysia (755 threatened; 6,232 total): About 12.1% of Malaysia's animal species are threatened.
Philippines (693 threatened; 5,858 total): Roughly 11.8% of the Philippines' animal species are facing risks.
These findings emphasize the urgent need for global conservation efforts to protect the planet's diverse and endangered wildlife before it's too late.