Provinces can appeal PCDF assessment as per PCDF Operations Manual. Provinces that failed the Minimum Conditions have the opportunity to appeal against the result thus giving opportunity to Provinces to appeal against the results within two weeks.
Provinces that did not meet the Minimum Conditions of the Provincial Capacity Development Fund (PCDF) have the chance to appeal the assessment results. The Joint Oversight Committee, also known as the Project Steering Committee, will convene on Thursday and Friday (September 21st and 22nd) to review reports submitted by provincial governments regarding their PCDF performance.
The PCDF, established under the Provincial Government Strengthening Project, serves as an incentive for provinces to enhance governance and improve service provision by complying with specified regulations. Remarkable progress has been observed since the inception of the PCDF, with Central and Isabel Provinces being the only two to achieve a Clean Audit Report. Prior to the intervention of the Provincial Government Strengthening Project, provinces rarely produced financial reports, except for a one-off production of Financial Statements by Malaita and Temotu Provinces in the early nineties.
The allocation a province receives hinges on whether it successfully passed all the Minimum Conditions assessed in the previous financial year. Failure to meet just one Condition results in the forfeiture of all Minimum Conditions. It is crucial for provinces to satisfy the Minimum Conditions, as they serve as the baseline requirements.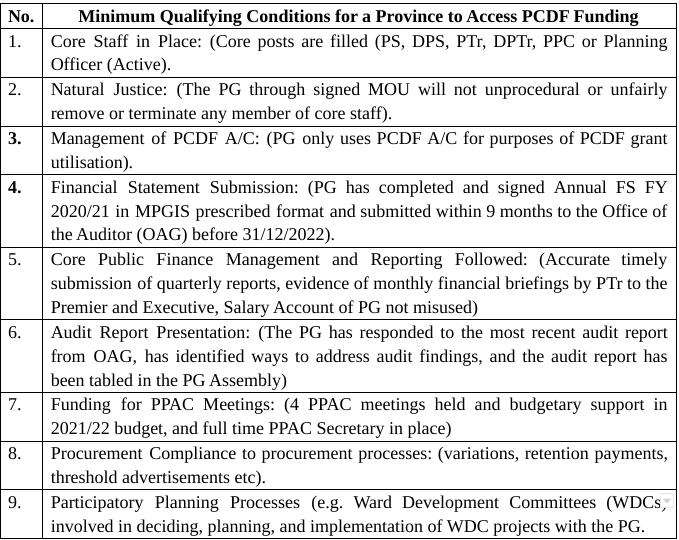 Recently, the Provincial Fiscal Grant Coordinating Committee (PFGCC) of the Provincial Governance Strengthening Programme (PGSP) held a three-day meeting to discuss the results of the Annual Performance Assessment of the PCDF in the Nine Provinces for the year 2021/22. Tony Hou, the Leader of the PCDF Projects Assessment Team, presented their findings on the performance of individual provinces in implementing PCDF projects to the PFGCC members. During the meeting, the Provincial Secretaries responded to issues raised in the PCDF Projects Implementation Assessment Report. Subsequently, the PFGCC made recommendations to the PGSP Steering Committee, known as the Joint Oversight Committee. The assessment process involved on-site visits to the provinces, where assessors meticulously examined evidence to determine whether each province had satisfactorily met both the Minimum Conditions (MCs) and Performance Measures (PMs). Based on this evidence, the assessors compiled their report, which was then presented to the PFGCC.
Provinces now have the opportunity to appeal the PCDF assessment results during the forthcoming meetings of the Joint Oversight Committee, providing a platform for provinces to address any concerns or discrepancies in their performance evaluations. The PGSP and its PCDF have been supporting the Provinces for over 13 years.
The project has so far delivered 1,549 projects at a total cost of Three Hundred and Nineteen Million, One Hundred and Twenty-Seven Thousand, Six Hundred and Thirty-Five Dollars (SBD 319,127,635.66), see table below.