Solomon Islands and China enhance cooperation through three-week training seminar in China for government officers on Rural Development
A delegation of 20 officers from the Ministry of Rural Development (MRD) is currently in China for a three-week training seminar on 'Rural Development' for the Solomon Islands. The seminar began on September 11th and will run until 1st October 2023, in Changping District, Beijing.
The government of the People's Republic of China (PRC) is generously funding this training program with the goal of enhancing communication and cooperation on rural affairs and development between the PRC and the Solomon Islands.
Led by the Permanent Secretary of MRD, Dr. Samson Viulu, the MRD's delegation departed from the Solomon Islands on Saturday, 9th September 2023. They traveled via Port Moresby-Singapore and arrived at Beijing International Airport on Sunday.
This training marks a significant milestone for the Solomon Islands, as it is the first of its kind, especially for the MRD. The program is organized by the Administration and Management Institute (AMI) of the PRC Ministry of Agriculture and Rural Affairs (MARA).
Initially, the invitation for the seminar was extended only to MRD. However, MRD, in a spirit of collaboration, extended the invitation to accommodate two officers each from the Ministry of Agriculture, the Prime Minister's Office (PMO), the Ministry of Commerce, and the private sector, represented by the Managing Director of Sape Farm.
Officers from the Ministry of Agriculture and Commerce will join the MRD and PMO team later in the week.
Throughout the seminar, participants will gain valuable insights into China's achievements in rural and agricultural development, as well as an understanding of concepts, policies, and experiences related to poverty alleviation and rural revitalization. The training will also provide an opportunity for officers to learn about China's practices in rural construction and strengthen exchanges with Chinese experts and scholars, laying the foundation for future cooperation.
The program will include field trips to Guangzhou city in Guangdong Province and Liuzhou city in Guangxi Zhuang Autonomous Region. During these visits, participants will engage with local rural businesses, scientific and research institutes, fishery enterprises, and exchange ideas with local agricultural officials and agribusiness managers. These interactions will help identify opportunities for future cooperation. Additionally, participants will have the chance to immerse themselves in Chinese history, culture, and engage with its people.
The official inauguration of the seminar training began on Monday, 11th September, 2023.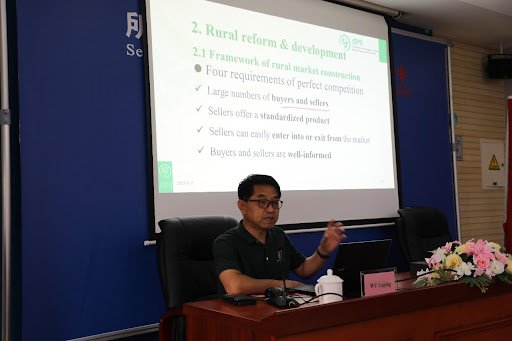 Source: Ministry of Rural Development