In a bilateral meeting, Prime Minister Manasseh Sogavare reiterated the Solomon Islands' unwavering support for the One China Policy. His Excellency Li Qiang, Premier of the State Council and Head of Government of China, engaged in talks with Prime Minister Sogavare, highlighting the expanding cooperation between the two nations, which has placed them at the forefront of the Pacific region. The foundation of this collaboration lies in the principles of equality, mutual benefit, and respect for each other's sovereignty, even in the face of a rapidly changing international landscape.
Prime Minister Sogavare assured Premier Li Qiang that despite geopolitical pressures, the Solomon Islands remains steadfast in its respect for the One China Policy. He emphasized the country's commitment to learning from the One China Principle as a means to foster further growth and development. The Prime Minister also expressed Solomon Islands' deep appreciation for the bilateral cooperation with the People's Republic of China (PRC), acknowledging the friendship, shared ideals, and principles of mutual respect, peace, and sustainable development achievements.
Commending China on the 10th anniversary of the Belt and Road Initiative, Prime Minister Sogavare extended his congratulations to China's leaders for their efforts in initiating the Global Development Initiative, Global Security Initiative, and promoting poverty alleviation, public health, and the common good for all. He reiterated Solomon Islands' commitment to supporting the implementation of these initiatives as well as the Global Civilization Initiative.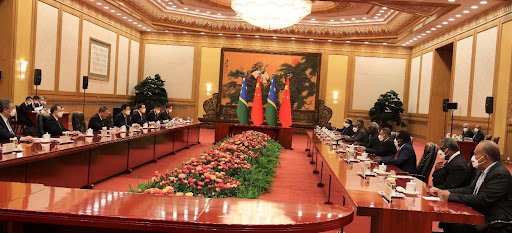 Premier Li Qiang, in turn, expressed China's readiness to further enhance development support for Solomon Islands and elevate current bilateral relations to new heights. He welcomed the valuable opportunity for dialogue, emphasizing the importance of continuity and strengthened cooperation between the two countries.
During the bilateral engagement, Prime Minister Sogavare took the opportunity to express gratitude to the People's Republic of China for their bilateral support and assistance. This acknowledgment encompassed technical assistance provided to Solomon Islands through China's bilateral cooperation, including support for economic cooperation, infrastructure development, sports, airports, ports, education, rural development, short and long-term training, and healthcare. China was the first partner to extend its support to Solomon Islands by providing COVID-19 vaccines, various related supplies, a testing laboratory, and an isolated ward.
Premier Li Qiang also accorded Prime Minister Sogavare and his delegation a warm welcome at the Great Hall of the People with an impressive indoor ceremony. A Guards of Honour ceremony, featuring the Three Services of the People's Liberation Army, was mounted, and Prime Minister Sogavare inspected the Guards of Honour.
Source: OPMC Press Secretariat