Solomon Islands is sending 50 participants to MACFEST in Vanuatu.
Vanuatu is hosting the 7th Melanesian Arts and Cultural Festival, marking a significant post-COVID-19 event. Solomon Islands is sending 50 participants to MACFEST, one of the smallest number of participants in the country's recent history of MACFEST. The previous Festival took place in Honiara in 2018. This time Vanuatu promises a grand cultural festival showcasing the pride of Melanesia. Participants who have started arriving in Port Vila over the past days are fully preparing for the Festival which will start on Wednesday, July 19th, 2023.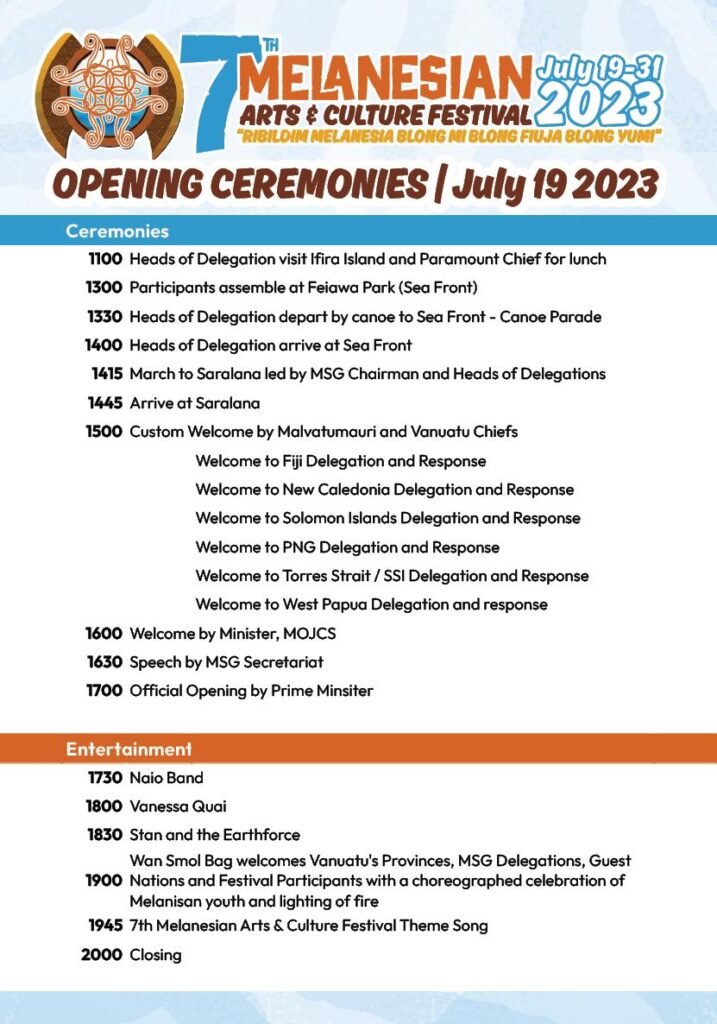 Dennis Marita, the Culture Director in the Solomon Islands' Ministry of Culture and Tourism, leads the Solomon Islands delegation and mentions that the country is only sending a small delegation (unlike past years) of 50 participants. He emphasizes that as a founding partner of the MSG and the Melanesian Arts and Cultural Festival, the Solomon Islands are obligated to participate and not attending such festivals is not their desire. Marita states, "Our delegation is endorsed by the Cabinet to attend this Festival, which is why we are here."
Solomon Island participants to the Festival commend the government for enabling their attendance. Many have previous festival experience. The Wa'uraha panpipers, who have been performing for some time, are pleased to showcase the different cultures of the Solomon Islands through their performances. John Kanai of the Wa'uraha panpipers expresses, "We want the audience to see the authenticity of the different cultures we have in the Solomon Islands, and we are happy to be here for the festival."
Vanuatu's six provinces have sent participants to the festival, and the Malvatumaori and the island council of Chiefs warmly welcome the delegations from each province of Vanuatu to Port Vila.
Past MACFEST events typically featured Melanesians from Papua New Guinea, Fiji, the Solomon Islands, New Caledonia, the Torres Strait Islands and Aborigines of Australia and West Papua, showcasing their unique cultures at the biennial event.
The theme of the 7th Melanesian Arts and Culture Festival is "Rebuilding My Melanesia for Our Common Destiny." This theme highlights the festival's dedication to promoting regional unity and cultural diversity. It emphasizes the importance of recognizing and honoring the unique cultural heritage of the Melanesian region while building bridges between communities and fostering a shared sense of identity and purpose. The theme inspires collective dreaming within the Melanesian experience, offering a unique vision to the world for a better tomorrow. Through this theme, the festival aims to inspire and empower individuals to actively shape the future of Melanesia.